Written Works
Thursday, August 27, 2020
I have a Dream
As I strolled thru room after room in the magnificent Reina Sofia museum in Madrid Sometime in 2000, I could not help 'having a dream'. I had seen the Twombly house in Houston, and I had then imagined what it would be like to give a home to all of David's works, for that is what they need: air, distance from one another, distance from the viewer, relief from the darkness of the warehouse for those unfortunately stuck there for too long in such inadequate quarters, the heat from the attic for those who never made it to the ware-house, the crowded shelvings, the pilings where none of their characteristics could be enhanced by the logical groupings or aesthetically pleasing arrangements.

Indeed his output - the six decades of it - can easily be chronologically displayed, as well as arranged by related subjects, similar techniques, or many interesting combinations, each piece made more significant thru kinship to the others, thus illustrating the artist's virtuosity.

Themes, techniques, moods and emotions diversified through variations. It is a very rich and long tapestry. I have always had a particular affinity for this metaphor, having discovered
the narrative and aesthetic merit of Queen Mathilde's Tapisserie de Bayeux , a long stretch of embroidery done in the 11th century. Imagine it rolled up! Oops! A real sin. So, here is the dream: Unravel the long sinuous road David travelled to produce the opus. Place each work in a suitable space. I am happy when in the course of the years I have been able to see a grouping of his works under one roof, tenderly dusted and cherished by a collector. This also is part of the dream.
posted by Michele Newman
---
Blog Archive
Want to read more blogs? Visit our archive.
read more

Personal Stories
Personal Stories are a grouping of short texts which can take many forms; a poem, essay, or commentary written by family and friends sharing an insight into the private world of David Newman. learn more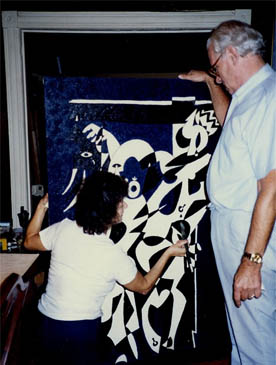 Michele cleaning MAGDELAN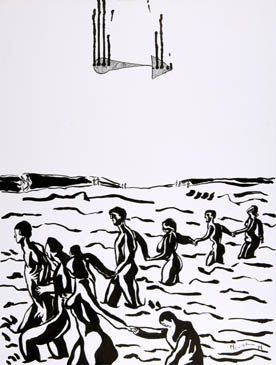 From Existential Anatomy Series