Biography
It is uniquely refreshing to meet David Newman. He has remained consistent and determined to embody his vision into six decades of dedicated work. His distinctly personal oeuvre includes sculpture and sculpture designs, drawings, bible illustrations, abstract and representational paintings (and every conceivable variation in between), not to mention poetry and a couple of plays and novels. Newman feels his contribution to art is manifold, as he integrates a solid sense of composition, a masterful handling of lines, textures and colors into the exploration of themes, moods and visions. Newman seeks to capture the immediacy of life, and describes his work as abstract expressionism.
As he gradually worked his way out of the strongly representative works of his early years, he no doubt passed through his impressionist, fauvist and slightly cubist moments. In his way, as he entered into painting he explored many colors, textures and even his way of looking at things was not always the same. The evolution of a master is complex and encompasses numerous styles and mediums. Not only is his work something of an anthology of various innovations up until his time, he also contributes something distinctively his own.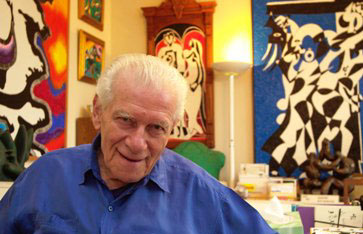 Major Periods in David's Life:


Early Works (1946-1958)


As a young man of of 20 years, he was the protégé of Malvina Hoffman and studied at various Art Schools: Art Students League, Clay Club, National Academy of Design and at the University of Syracuse with Ivan Mestrovic. The early 1950's where also a busy time with an exhibit at Jacques Seligman Gallery, NYC, a one man show at the Jewish Museum, NYC and various works commissioned and purchased by Monroe Wheeler, curator of Museum of Modern Art, Marlon Brando, Fred Allen and Dick Smith. During this era, Newman migrated to France and Italy enriching his knowledge in European Art Schools including the Beaux-Arts of Paris and being hospitated by Professor Romano Romanelli in his own studio at the Academia delle Belle Arti in Florence, the same building which contained the DAVID and UNFINISHED SLAVES of Michelangelo. Newman was invited by the Academia in Carrara to carve marble from May to October each year as a guest. They supplied working space, and assistance for various projects. During the winters, studio space was provided by Vatican sculptor, Antonio Berti in Sesto also as a guest. During this period, Newman carved IL PUGNO, TORSO, and L'OPPRESSO in Carrara marble. Newman returned to America in the late 50's executing a commission for 34 bronze busts for the founders of the Miami Beach Mount Sinai Hospital and for a one man show of sculpture and drawings at the Norton Gallery of Art in Palm Beach.
Manhattan (1959-1968)


Sculpture in iron, clay, plaster. Began to paint full-time and created a series of existential portraits in oil including playwright Bernard Pomerance. Illustrated the Bible with 127 pastel drawings. Groups and one-man shows in NYC (Seligman and Royal Athena) and Paris (Knoedler); represented in Museum of Modern Art in Columbus, Ohio. During this period Newman also wrote his first book of poetry COMPOUND PULSE seeking to construct faceted cubist poetry.
Westchester (1969-1980)


This period commenced when Newman was appointed Chairman of the Art Department of Henley School, Long Island. Here he continued a series of existential portraits in oil; still lifes and semi-abstract landscapes, created wax sculptures, designs for architectural monuments and a series of 78 ink drawings, 18x24", titled EXISTENTIAL ANATOMY which dismantles and reorganizes the elements of traditional anatomy in a symbolic, satirical and philosophical fashion. Sindin Gallery in NYC made a volume purchase of drawings and watercolors. Paintings and sculpture catalogued by Museum of Modern Art in NYC.
Abstraction (1981-2002)


Full-time abstract painting; dialectics of biomorphic forms, texture, colors, and "negative space". Considered by Newman the pinnacle of his imaginative achievement where you pursue the essence of a thing with the mind rather than the eye. Reluctant to feel locked into a painting without escape from the pervasion of color, he pierces perspectives that allow the onlooker his own exploratory space. His familiarity with sculpture brings solidity, structure and weight to the playfulness of his designs, contributing to a pulsing feeling of primeval life. Exhibitions in NYC, Dallas, Chicago, Washington, Texas and Paris. Work owned by playwright Eugene Ionesco.
Later Works (2002-2005)


This period sees David returning to themes related to actuality (the Flags and Towers) following patterns established in previous clusters: a variety of emotions, moods and statements, as well to a rediscovery of the physical world marked by nature, landscapes (Reflections, Sunsets, Seascapes, Volcanoes, etc), the elements and even some American landmarks.
Formal Education and Studies
David Newman spent two years at Chapel Hill University mainly because of his favorite writer. He tasted the arts through music and modern dance but as he turned eighteen, sculpture then became the only overwhelming passion. He attended various art schools, Sculpture Centers and the 57th street Art Students League. A visit to Ivan Mestrovic perhaps launched him into a determined path as a self-taught artist and perennial student. He engaged in a demanding and self-imposed regimen of daily observation, analysis and understanding of the arts of drawing, composition and sculpture. I have only missed the first five years of his creative life, and vividly recall the assiduity with which he would pursue the pen and ink studies of Dürer, of the museum visits and sketches of every period or major artist he would constantly accumulate. He was a meticulous observer, and drew his conclusions from attentive analysis of the works he admired and their range was all encompassing. The practice of drawing would remain constant through his life, culminating in an enormous number of watercolors upon ink design created since 1979. His Florence period started by being invited as a guest by the sculptor Prof Romanelli who told him his work was such that he needed not register for classes. However, when it was time to execute the marble for sculpture pieces he did go through the training offered at the Carrara School of Marble. For anything else, experience, discipline and enthusiasm were his only teachers. His admiration of all great artists was the other training he went through. He had a strong sense of self-criticism, and measured his works against the great familiarity he had reached for those he considered "The Great Ones". Stern Evaluations...Reaching for the Stars.

In summary:

Chapel Hill, North Carolina. Drama, English, Natural Sciences
With Malvina Hoffman (Rodin's student and protégée; represented in the Museum of Natural History, N.Y.C.)
Various sculpture and art workshops in New York
With Ivan Mestrovic, Syracuse
Beaux-Arts of Paris
Guest in Professor Romanelli'studio, at the Academia delle Belle Arti, Florence
Guest at the Academia in Carrara
Holds B.A. with distinction summa cum laude